Up until the year 1976, I conducted revivals in many different parts of the country and saw many folks won to the Lord. Evangelism had always been my calling, it seemed, and I was preaching daily on three radio stations and pastoring The Alum Springs Church. I was busy, yet I felt there was something else that God wanted me to do. I didn't know what it was; I became dissatisfied. I got to where it was hard to pray...hard to find a message...hard to have the blessings of the Lord on me. Everything just seemed to come to a standstill. I was just so dissatisfied with what I was doing.

My first impression was that God wanted me to move and take another church and, as they became available, I would consider them. I knew it wasn't right...it just wasn't what God wanted.

My brother wanted me to come and help in radio work...He had two radio stations and a television station. I considered that and thought, "Maybe that's what God wants me to do....I'd really like to do that" Yet, I knew that wasn't for me. It just didn't seem right.

That Fall and Winter (1976) I spent many nights in prayer, night after night. I prayed all night long many nights. I was back and forth from the parsonage to the church, during the Winter (knee-deep snow) and praying, begging God to reveal to me, telling Him .... "if you'll just show me, I'll do it no matter what it is... if you'll just reveal it to me, I'll do it."

The devil was so real and fought me so hard during that time. On two different occasions I left the church and went to the parsonage...I was scared. The devil was so real! [If you doubt the devil is real, my friend, I want to tell you that he's real and he'll scare you to death! He'll bluff you out if he can.] I've never had anything be more real to me than the presence of Satan that Winter, while I was spending more time with God trying to find His will.

I spent hours of praying and fasting and begging God...and then I began to be concerned, burdened for a radio station. I was afraid to mention it to anyone. I kept telling God that it was too big for me, that I couldn't handle all the red tape of government, lawyers, engineers, etc. I just told Him it was too big for me, it was beyond my abilities, I just couldn't do it. But the burden never left me. I put out a fleece. I was in the mountains of Eastern Kentucky at my brother's, preaching a revival. I thought, "This is it! God's going to show me He wants me down here working with my brother." But when I got down there, I couldn't go around the radio station. I was miserable all the time I was there...I realized that wasn't it!

My brother was taking pledges to pay off the Radio Chapel and I pledged $100 and casually said, "Lord, if anything comes back from this, I'll open up a bank account for that Radio Station about which you've been dealing with me."

I forgot about it and was really hoping nothing would come up. But, the next day I visited an Old Country Store. As I left the store, the lady who owned it, followed me to the door and said, "This is for you," and handed me a bill. I put it in my pocket and thanked her. Later on that same afternoon, a man handed me a check. Later that day I looked and discovered the lady had given me $50, and the check was for $50...$100 back the next day. (The amount I pledged) That, I admit, was a little scary!

Within a couple of weeks, I had $380 and people just handed me money here and there...people who had never given me money before, and in unusual ways. I finally had the courage to call the engineer and ask him how much it would cost to run a frequency test. He told me it would be $300.00 and after praying about it for a day or two, I mailed him my check and he found the frequency.

After he found the frequency, he said he would need $1,000 to file...and I thought, "OH My, $1000.00! Where in the world would I ever get $1000.00?" I mentioned to the church one Sunday morning that I would like them to pray about a project I had been considering. That's all I said. Shortly thereafter, a family asked me to stop by their house. I went.

When I arrived they told me since I had mentioned that "project", the Lord Laid on their hearts to give me $1000.00. They handed me $1000 cash.

It went from one thing to another...things began to fall in place and we began to see things more clearly. We saw that God was really in what we were doing.

Next, we needed an attorney in Washington and our engineer told us that Washington was full of attorneys. I asked him to recommend some. He gave me about six different names. After praying for several days, I called one. I liked him...He was a Christian. He had several men working in his office and assigned our case to man named "Harry Martin." Harry called and told me he had married Jack Stith's niece and came to Danville, a couple times each year. It was not a coincidence that I found an Attorney who took our case and was familiar with somebody in Danville and would even come to Danville A couple times a year. He came down to see us shortly afterward.

It wasn't long until our attorney said we needed to show the FCC that we had access to $80,000 for the first year's operation. I told him there was no way I could show I had access to that much money. I prayed about it for a week and a day. During this time the Lord gave me the song "I've Placed It All In The Hands Of Jesus." Harry called back and said he had good news -- The FCC had changed their ruling and at this point we didn't have to show $80,000 but we did have to show that we had $30,000. Our property, however, stood good for that and it was just a matter of paper work.

When we were considering property, there was a piece of property for sale close to the parsonage. There was an old house on it (junky, hog pens and trash) and when people would come to look at if they'd leave. I walked over and looked at it and called the engineer. When he looked at his maps, he said it would work. I then walked over the ground and claimed it for God, and asked God not to let anybody buy it. In several weeks, we were able to buy the property. We borrowed the money and started bulldozing and cleaning it off -getting it ready.

There have been many problems along the way. We had another party that filed for the same frequency we were on, and it was left to the FCC to decide who would get it. A preacher friend of mine, from the section of the state where this man was....over 150 miles away...told me I was bucking a "Big Man". This man was a big politician, the mayor of the town, owner of the television station in town, owner of an insurance company and coal mines. Actually, he was involved in everything in the town. I told my friend, "He may be big, but he's not as big as God." I prayed for over a year and half before I tackled this thing. The FCC had assigned a date when we had to meet in Washington to present our case. Shortly before that date, our attorney called and said the party had agreed to back out if we would agree to pay their filing costs (7,000). [This was the normal procedure and would be much cheaper than the hearing.

There was a man, who was familiar with what was going on, who called and said he wanted to pay half of the expenses. I've never met the man...may never meet him till we get to heaven. He did mail a check...another answer to prayer.

We had many other problems and difficulties that normally would not occur, but I feel it was only because we are a Christian Radio Station. Finally, the day arrived when we went on the air.....MAY 20, 1985. Many difficult days, weeks, months and years since then, but anything worthwhile for God is not going to be easy!

I told God it wasn't fair for secular stations to have so much power and a Christian Station to have so little. After much prayer, paper work, leg work and expense... in February 1987 our power was doubled to 1000 Watts.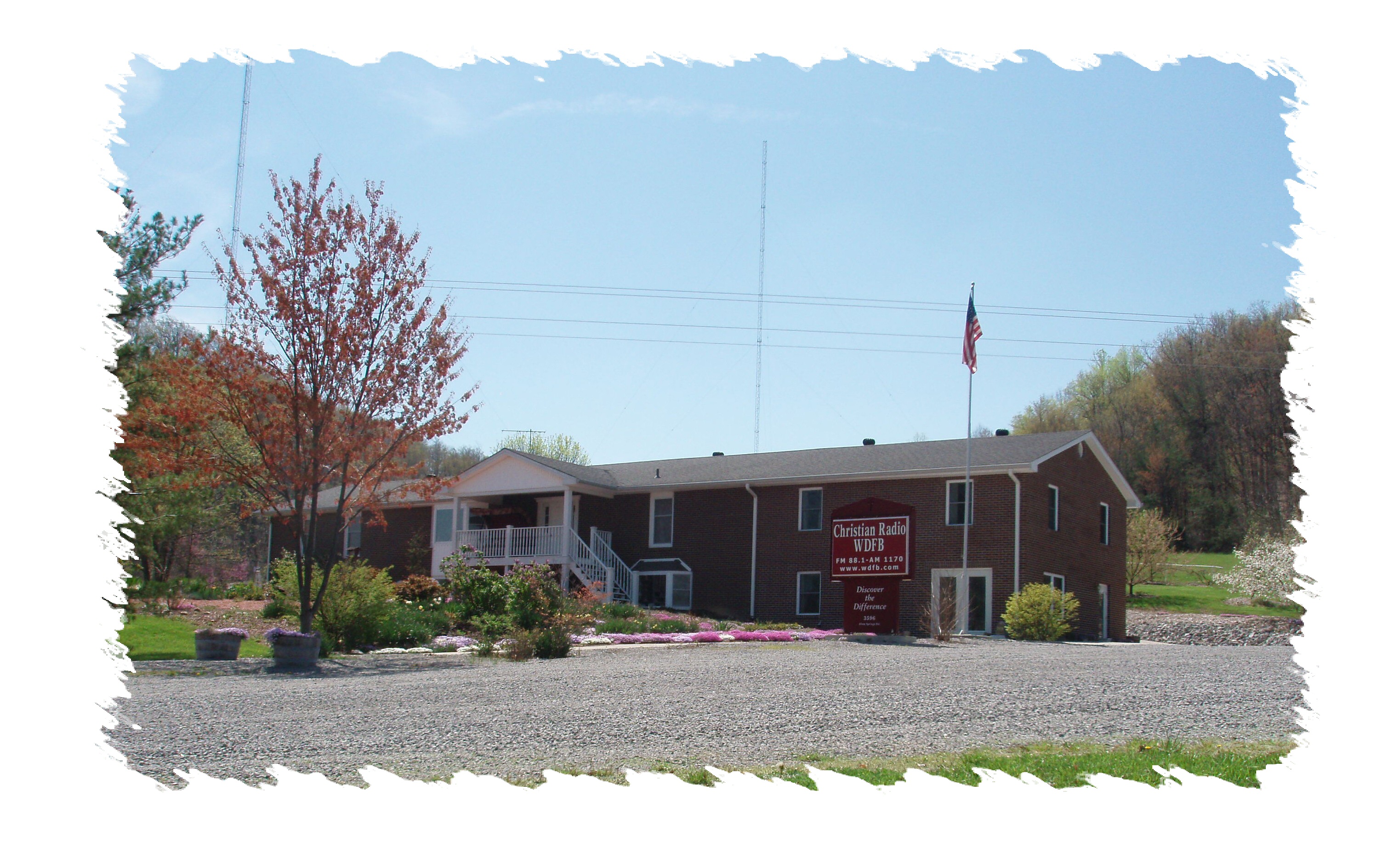 Birth of 88.1 FM
In1991, our consulting engineers found a frequency available for a low power, non-commercial educational FM station on 88.lmc. and we began the long and complicated procedure of filing the application with the FCC, then the seemingly endless wait for approval. In late Summer of 1992, the big day came: Approval from the FCC. We carefully studied equipment and placed the order. A few months before this, Quincy Blevins, a fine engineer (retired from GTE) joined our staff. Jim & Quincy made plans for placing the additional equipment; perfecting a plan whereby both stations can be programmed from one control room, one console, by the same operator. There was the tedious task of digging the ditch to the tower (to bury the FM program line) without disturbing the AM ground system. But everything went more smoothly than ever expected. We all knew that we had expert help from God.
Early November, 1992: program tests began, and regular programming began on election day. Of course, some adjustments in equipment and programming were necessary, Jim said, "Never have I seen installation of a new station go so smoothly." Another of our dreams had become a reality. I have no doubt that the dream continues. What's next? At this point, I have no idea. But, whatever it is God wants us to do, we'll do it. By "we" I mean all of you, our faithful friends and helpers.
In 2001, WDFB-FM started streaming on the internet all around the world via www.wdfb.org.
In 2003, we were able to add a 30 foot addition to the building. We were so blessed to have many volunteers to help complete this project. The large room is used for Share-A-Thon and Radio Revival.
Many prayers have been answered, and souls saved that are already in Heaven. Many homes have been reunited, children saved, bodies healed, souls fed and comforted. Many calls, letters and e-mails come in daily for prayer.
Continue to pray for WDFB-AM and WDFB-FM daily. We want to be a blessing to you!
WDFB 1170 AM and WDFB 88.1 FM are both equipped with a generator so we can continue on the air if there is a power Failure.
WDFB, 3596 Alum Springs Road, Danville KY 40422-9607
Request Line : 859-236-9332
Business Line : 859-236-9333
Fax Line : 859-236-3348